| | |
| --- | --- |
| Posted by Spin the Demon on July 2, 2011 at 2:33 PM | |
This is a Series of Short Reviews/Over Views of Lesser Known Games, These Reviews and Based 100% off what we have played and Nothing else no info was read up on before or after writing this and is based on our opinion not to be viewed as fact. We are reviewing for free and fun to help support our retro gamer fans. Thank You Site Admin We at also would like to thank Sega LTD for the Non Profit use of Screen Shots of the Game.
 Super Magnectic Neo
This is a Lesser Known Gem That you may have never got to check out. Platfromer Games in the 2000's wasnt as hip or hot selling as the games were in the 90s Back then every big game that came out for a System was a Mascott Platformer and every company was out to have the next Mario or Sonic game. This did die off and when we did see a Platformer in this generation It was the Next Game in the Rayman Series or series we have came to love, not alot of brand new platformers where coming out that were not based off a Movie or kids tv show.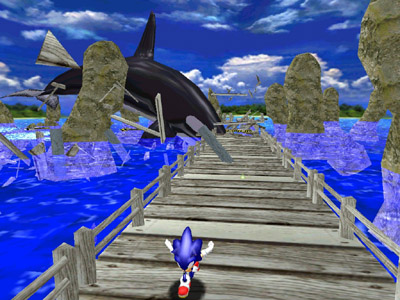 Sonic Adventure Sega Dreamcast 1999
  Super Magnetic Neo to me was a fresh fun color filled Platformer not that Sonic Adventure wasnt it just was a new idea and not the same old cast with the same goals. SMN (Super Magnetic Neo From Here out) The Story is Pretty Simple The "Pinki Gang" is Stealing Poa poa park from this Dr. Guy and He makes this Neo Magnetic Robot to get it back. Its awesome really its bright and fun very pink at times but really blends well with the look.
 Pinki Gang
 The Game Play is Run and Jump in a 3D world much like the PS1 Crash Games, You play in 4 Worlds with 4 Stages each + Bosses so 20 Stages in all if you count all the extra stages its over 100 stages of Awesome! The Game is very good looking with full HD VGA Support thats just amazing really. I was playing this game in S-Video After days of Playing it in HD with my VGA to HDMI Box (See forums or comment for more info) and it just didnt look as good it lost some of its magic still a great game still fun to play but this one is worth the VGA box and really shows off what the dreamcast can do.
The Last Thing I want to talk about in this game is cool hidden items in the level, no big deal having Easter Eggs in a game but where SMN is Great is that when you get close to a hidden item your VMU (Sega's Memory Card Hand Held) Beeps and yells and shows images to let you know a item is close, now how cool is that?
 Dreamcast VMU
So After Playing this game for hours and hours Im going to say this is 5/5 Must have game for any Dreamcast/Platformer Fan. This is not the best Platformer in the world im not saying that what Im saying is this is a Game thats not known as much as alot of other games but is still a great platformer game. This is also only for the Dreamcast so new DC gamers &  Collectors still have a reason to buy a system and this port of the game.